AMSOIL Keeps Truck Running Past the 300,000 Mile Mark
Dealers Don and Faye Crowe of Davidson, NC help keep Johnny Barkley's Chevrolet S-10 truck running smooth and strong by servicing him with AMSOIL lubricants. By using AMSOIL filters and lubricants in the motor, transmission and rear end, he has accumulated over 350,000 miles on the truck's engine.
Originally taking advantage of the 25,000 mile drain intervals offered by AMSOIL 10W-30 motor oil, Barkley now uses AMSOIL Series 2000 0W-30, changing it every 35,000 miles. Barkley, owner of Carolina Stucco Inspection, depends on his truck for work, pushing it to the limit by pulling a boat and landscaping trailer. He has not has any problems with any mechanical parts, and the engine has only required three tune-ups over its lifespan. He also just purchased a new Toyota Tundra V8 and has placed AMSOIL lubricants in it.

(Above was originally presented in the AMSOIL ACTION NEWS)
409,000-Mile Oil Drain Interval Mack Engine Teardown

After 409,000 miles without an oil change, the AMSOIL-protected Mack E7-400 engine in this truck was as wear-free as an engine in comparable service treated to TWENTY TIMES the oil changes.
COLONIAL HEIGHTS, VIRGINIA – "I didn't see any surprises in there at all. Based on my experience with AMSOIL Motor Oil, it came out the way we expected," said owner/ operator Haywood Gray (right) of his 1990 Mack E7-400 engine. It came out in good shape, exactly what you'd expect for a well-maintained engine with 630,000 miles. Yet the engine's oil had not been changed for 409,000 miles!
Gray began using AMSOIL Synthetic Heavy-Duty Diesel and Marine 15W-40 Motor Oil (AME) in the E9-400 V-8 engine of his first truck, a 1984 Mack, after the engine accumulated 45,000 miles. For 280,000 miles, Gray changed his oil at 40,000-to 60,000-mile intervals though his oil analysis reports showed, without exception, that the oil was good for continued use. At 325,000 miles, Gray increased his oil drain interval to 100,000 miles. The engine was torn down at 600,000 miles when Gray decided to sell the truck. The cylinder liners, bearings, pistons, rings and oil pump, all treated to extended oil drain intervals with AMSOIL, were found to be in excellent condition. Gray continued using AMSOIL AME in the engine of his new truck, a 1990 Mack with a E7-400 engine. With the new truck, instead of using 100,000 mile drain intervals, Gray began basing his oil drains on the findings of a used oil analysis program. He also installed an AMSOIL By-Pass Oil Filter. After 630,000 miles total and 409,000 miles without an oil change, the E7-400 engine was torn down by the local Mack dealership in December 1996 and its parts were examined by an engine rater from a major oil additive manufacturer.
Findings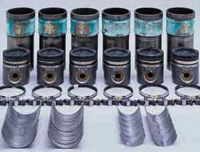 The engine showed light to moderate wear throughout, just as an engine in similar service and lubricated with conventional oil changed at 15,000- to 20,000-mile intervals would show. In fact, according to the engine rater the parts he examined – cylinder liners, pistons, rings, bearings, valve train components – could have been put right back in the engine and would have continued to provide the good, dependable service they had provided all along – after 409,000 miles without an oil change!
AMSOIL Races Against Drugs

AMSOIL is the proud sponsor of Race Against Drugs, a program developed by American Motorsports to assist with drug education in America. Race Against Drugs travels nationwide to inform children about the marvels of drug abuse. Race Against Drugs appears at race tracks (NASCAR, CART, IRL, APBA and others), community events (schools, shopping malls, parades and drug prevention rallies), trade shows (PRI, Circle Track and SEMA) and conferences (International Association of Chiefs of Police, Executive Offices Weed & Seed and the National Prevention Network).
Scott Steger, the deputy director of the organizations writes:
"On behalf of all of us at Race Against Drugs, I would like to thank AMSOIL for the support. I am sure you are constantly complimented on the superiority of your products in racing, passenger and fleet use situations. In the past year, we at RAD have logged over 450,000 miles in our towing vehicles using your products to lubricate engines, transmissions, rear ends and more. Not one of our trucks has suffered down time due in part to your fine products and your willingness to assist with the program.
When we travel we are constantly asked about AMSOIL and why we choose to use your product instead of others. The answer is simple: superior quality, reliability, technical support, and your company's commitment to preventing our young people from becoming involved in drug abuse."